Multi-ecosystem support and home automations make this pet feeder truly smart.
* The device can be controlled by Google Home and Amazon Alexa only by creating an Aqara Home scene and binding the accounts. For HomeKit support, setting up an automation with Aqara Hub M1S is required.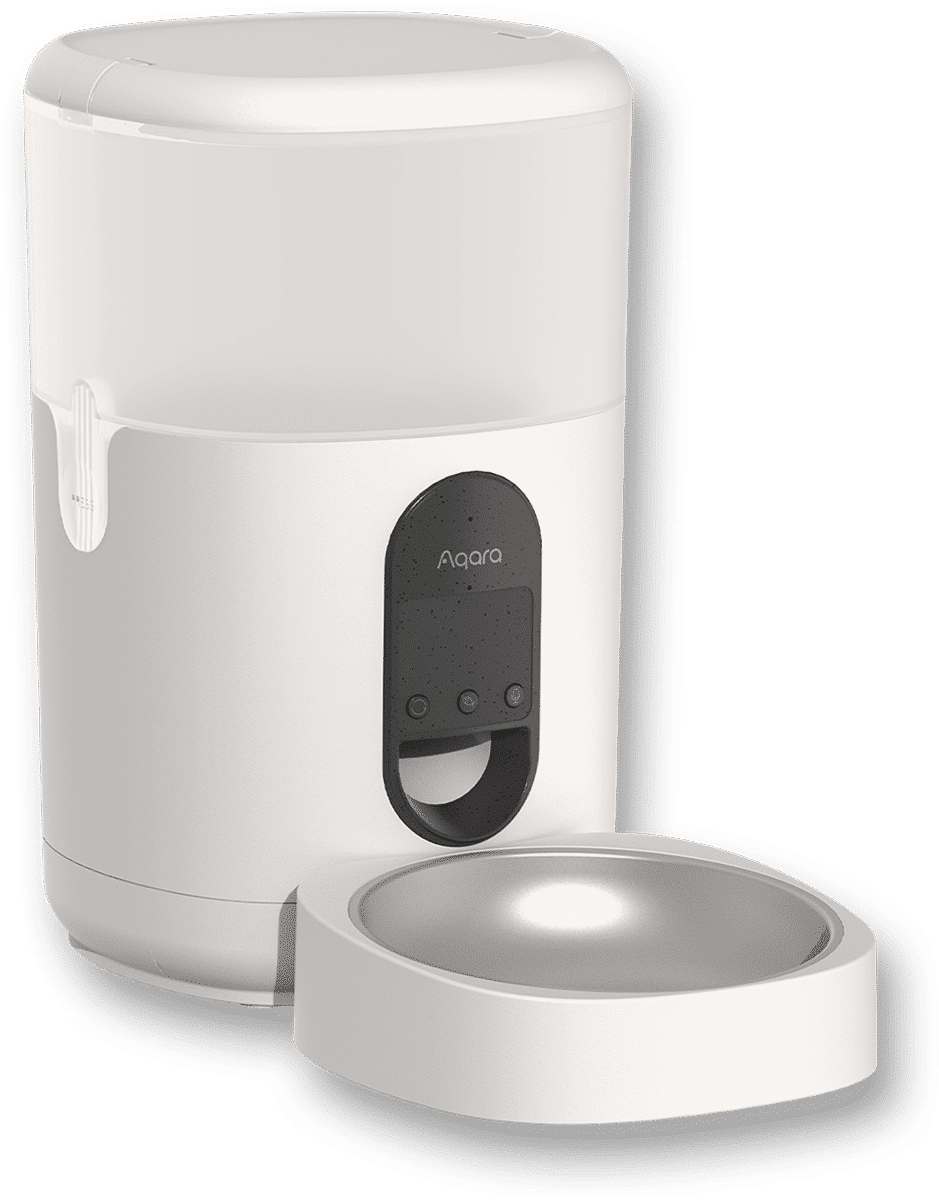 Zigbee 3.0 Protocol with Repeater Functionality
Apart from other benefits of Zigbee 3.0, the Pet Feeder will also increase your Zigbee network stability when your Aqara devices could not reach the hub.

Scheduled and Remote Feeding
The Pet Feeder C1 can be controlled remotely when you are travelling, at work or lying down on the sofa, and supports feeding plans or schedules.

Feeding Statistics in Grams
You will be able to see how many grams of food was consumed per day* and access feeding statistics to dispense as much food as per your pet's need.

4L Food Tank for Small
and Medium Pets
A large 4-liter (16-cup) food tank that is suitable for both cats and dogs can incorporate around 1.7 kg (3.7 lbs) of typical pet food**. More Connection Options
Aqara Hubs*** that connect the Pet Feeder C1 to the internet, support 2.4 GHz and 5 GHz Wi-Fi and Ethernet connection options. You can easily choose the one that suits you best.

Smart Home Automations
In Aqara Home, you will be able to make automations with other sensors and controllers to set daily routine or interesting IF-THEN cases, which make a connected product truly smart. Dual Powering Options
Apart from powering by USB-A port, the Pet Feeder C1 supports an optional D-type (LR20) battery backup. In contrast to other feeders, it stays connected even when powered from batteries! Voice Broadcasting
The Pet Feeder has a built-in microphone that can be used to record a message to your pet. Also, we can also do multi-room or make it louder by using hubs with custom ringtones.
* You will have to weigh one portion and input the value in grams to the device settings
** The actual weight depends on the particular type of food allowed kibble size 2-12mm.
*** Aqara hub is required
Multi Voice Assistant and Ecosystem Support*
Support the most popular ecosystems and can be controlled by voice. Siri, Alexa, Google, IFTTT are supported by creating Aqara Home scenes and triggering them by voice or via automations, which will make the feeding simpler.
For more info on using the Pet Feeder C1 with third-party ecosystems including HomeKit, please refer to the Pet Feeder C1 installation and operation video.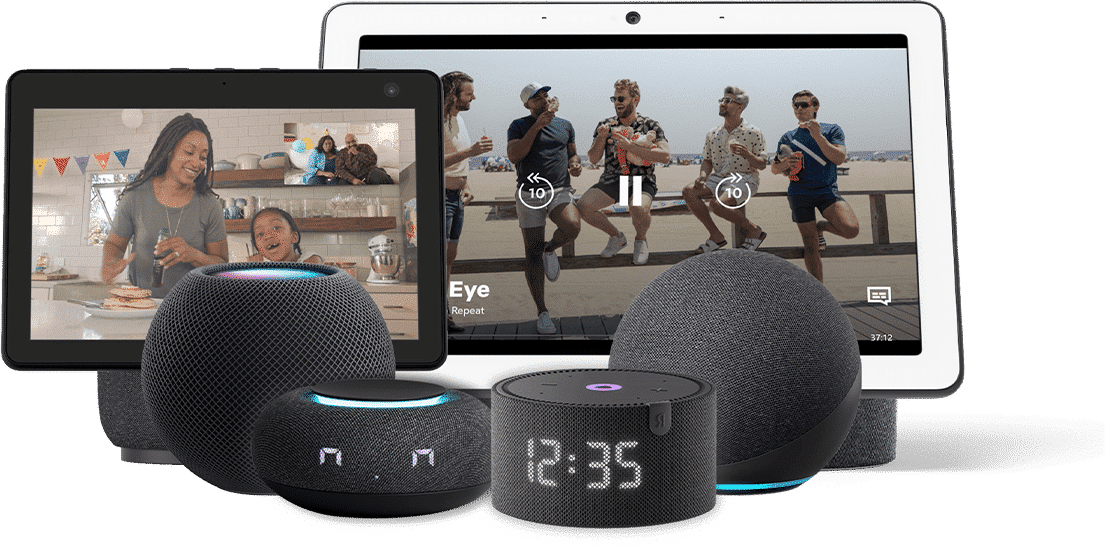 *This device is NOT HomeKit, Google Home or Alexa compatible. It only can be controlled by creating an Aqara Home scene and binding the accounts. For HomeKit support, setting up an automation with Aqara Hub M1S is required.
App remote controlwhich will make the feeding simpler.
Whether you are travelling, at work or lying down on the sofa, you can easily check your daily feeding or give a snack with the app.
By setting the plans or schedules, the pet will be fed in a regular pattern. Compared to the competition, the function will work even when no internet connection or when the Zigbee hubs goes down!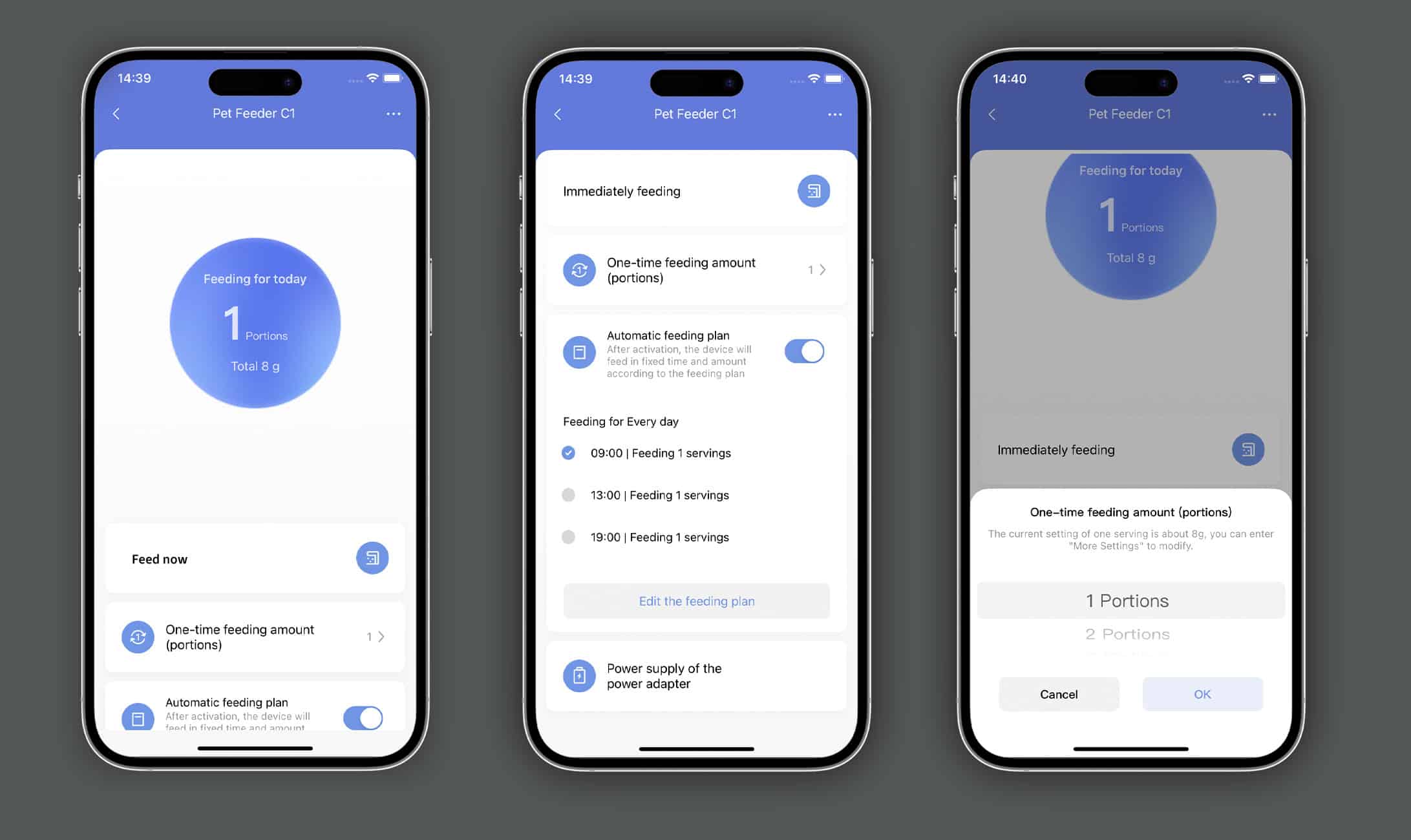 Smart home linkage makes the C1 truly smart, it can be integrated into your smart routine or used for training and rewarding.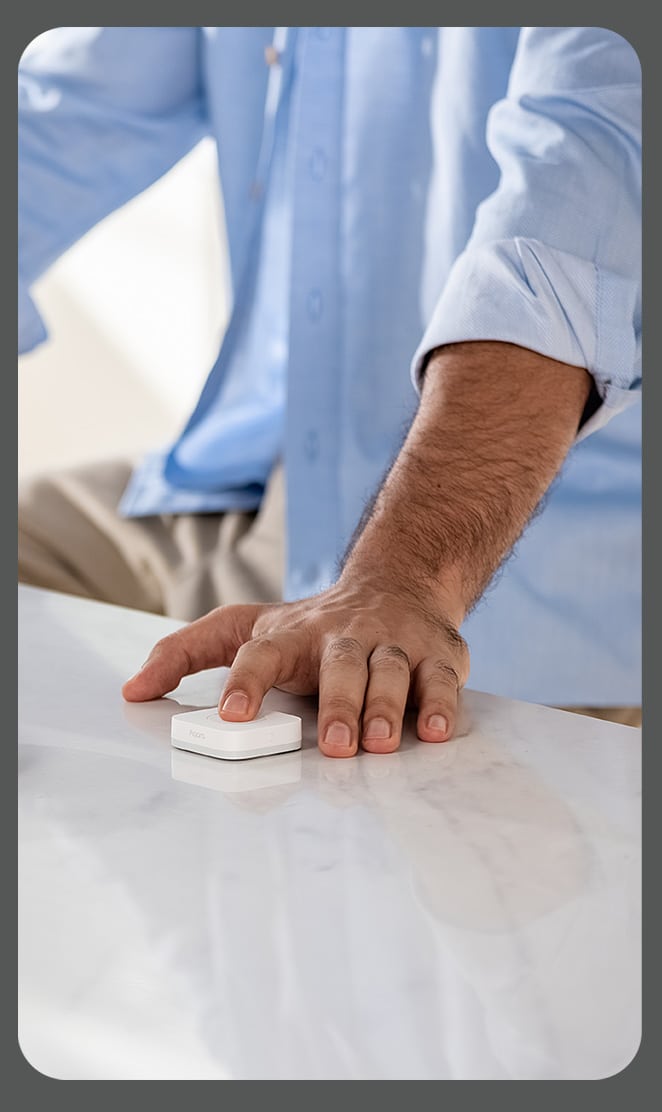 One-button feeding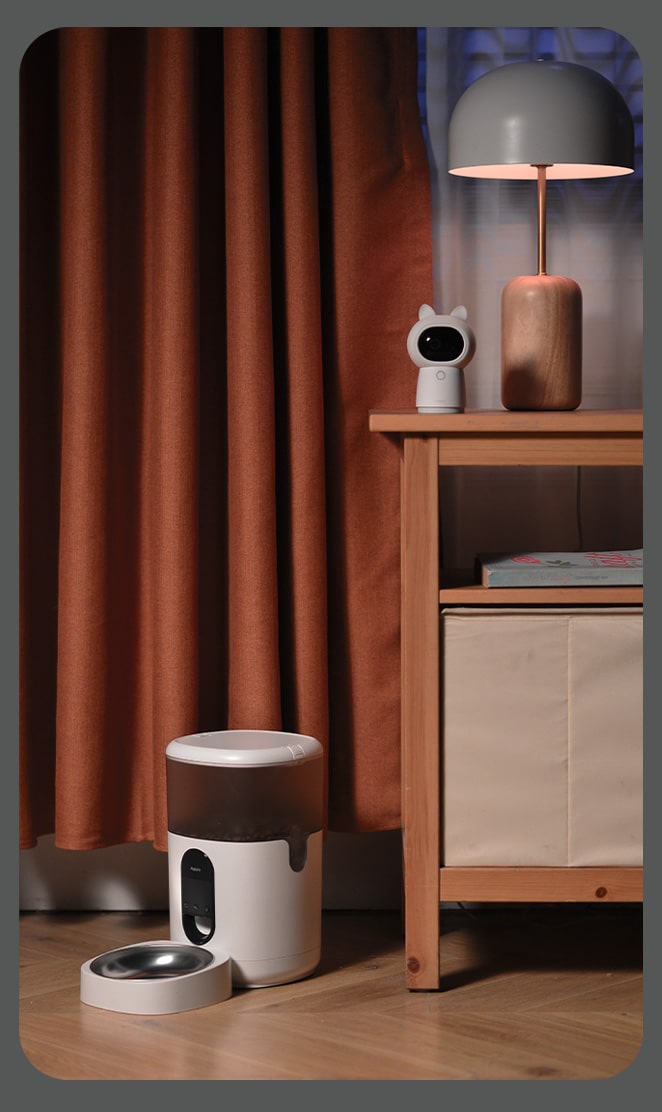 Pet guardian Camera G3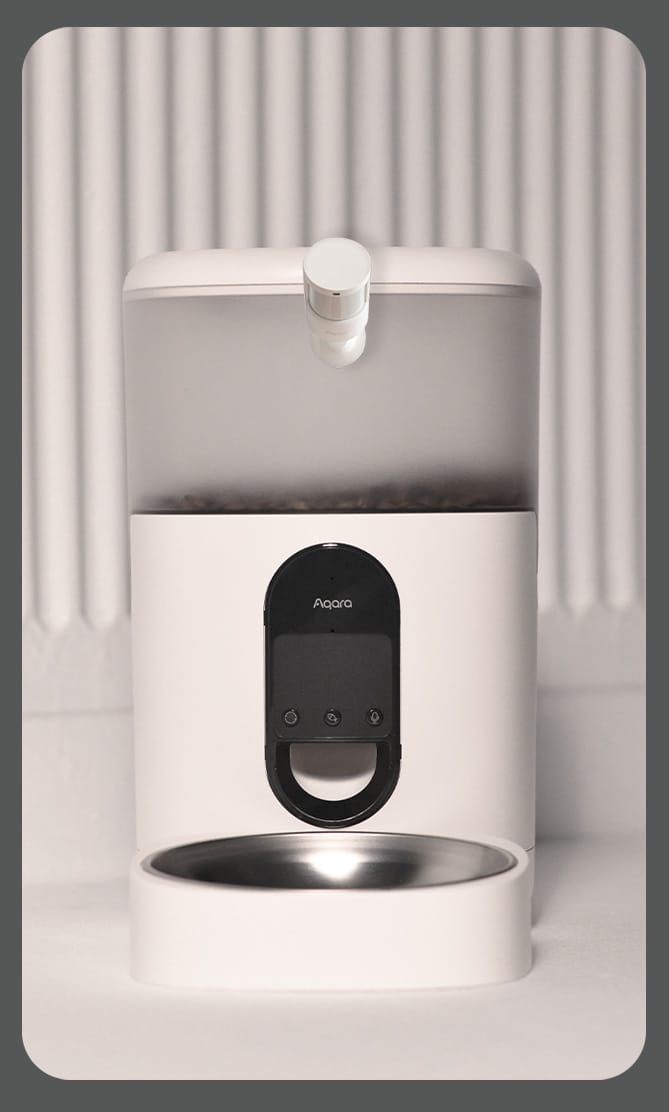 Sensor triggering
Rest Assured, Details Care for More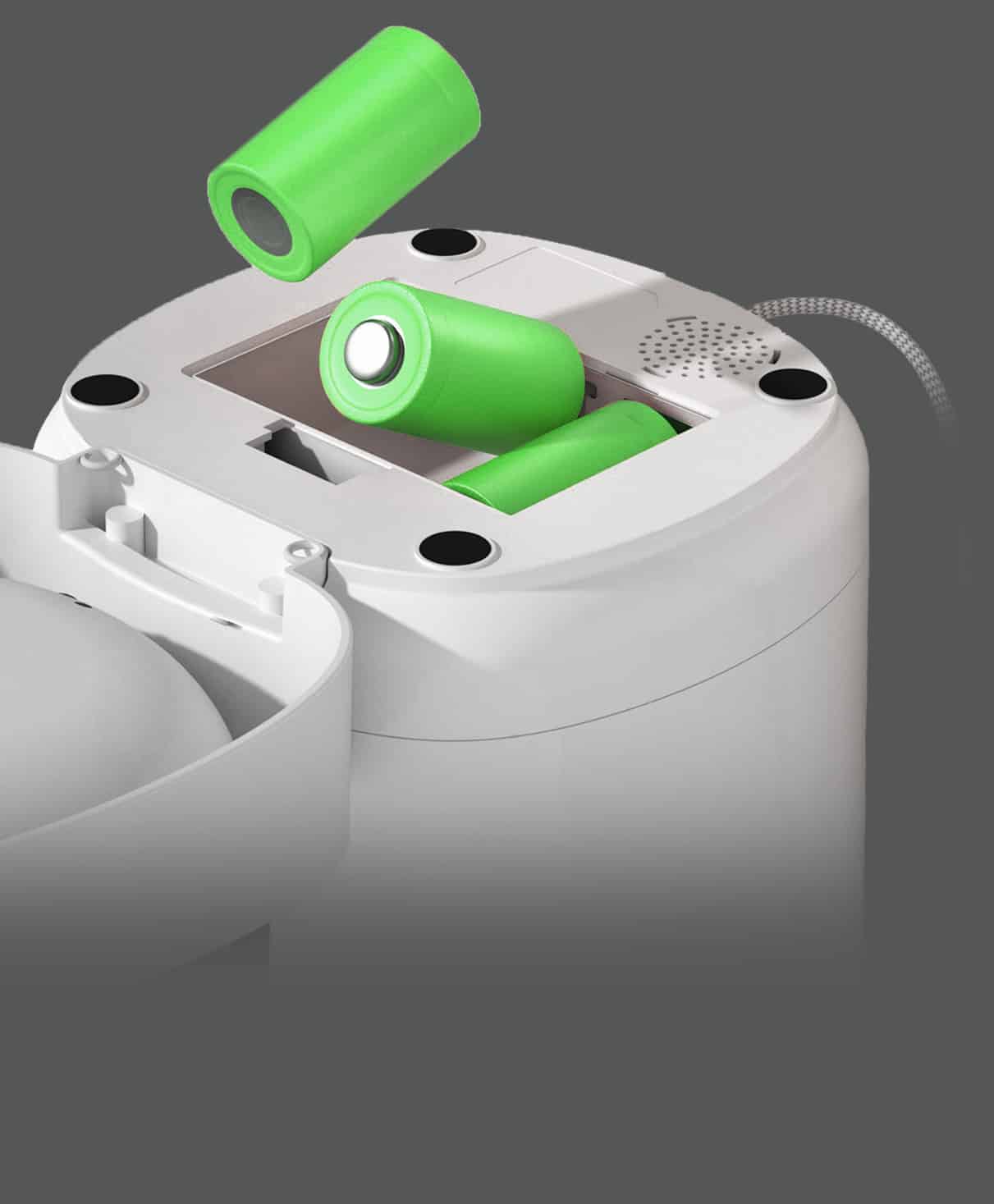 No internet? No power? It still works
An optional D-type (LR20) battery backup makes it stay connected even when there is no constant powering. Even when the Internet gets disconnected, the scheduled plan still works, so as not to be worried when you are not able to be home soon.
Safe for your pet and easy to use
All the parts of the C1 that contact with food are made of materials that are safe for pet food. Stainless-steel bowl, plastic tank and rubber dispenser wheel are all detachable, and you can easily remove and clean each piece of it.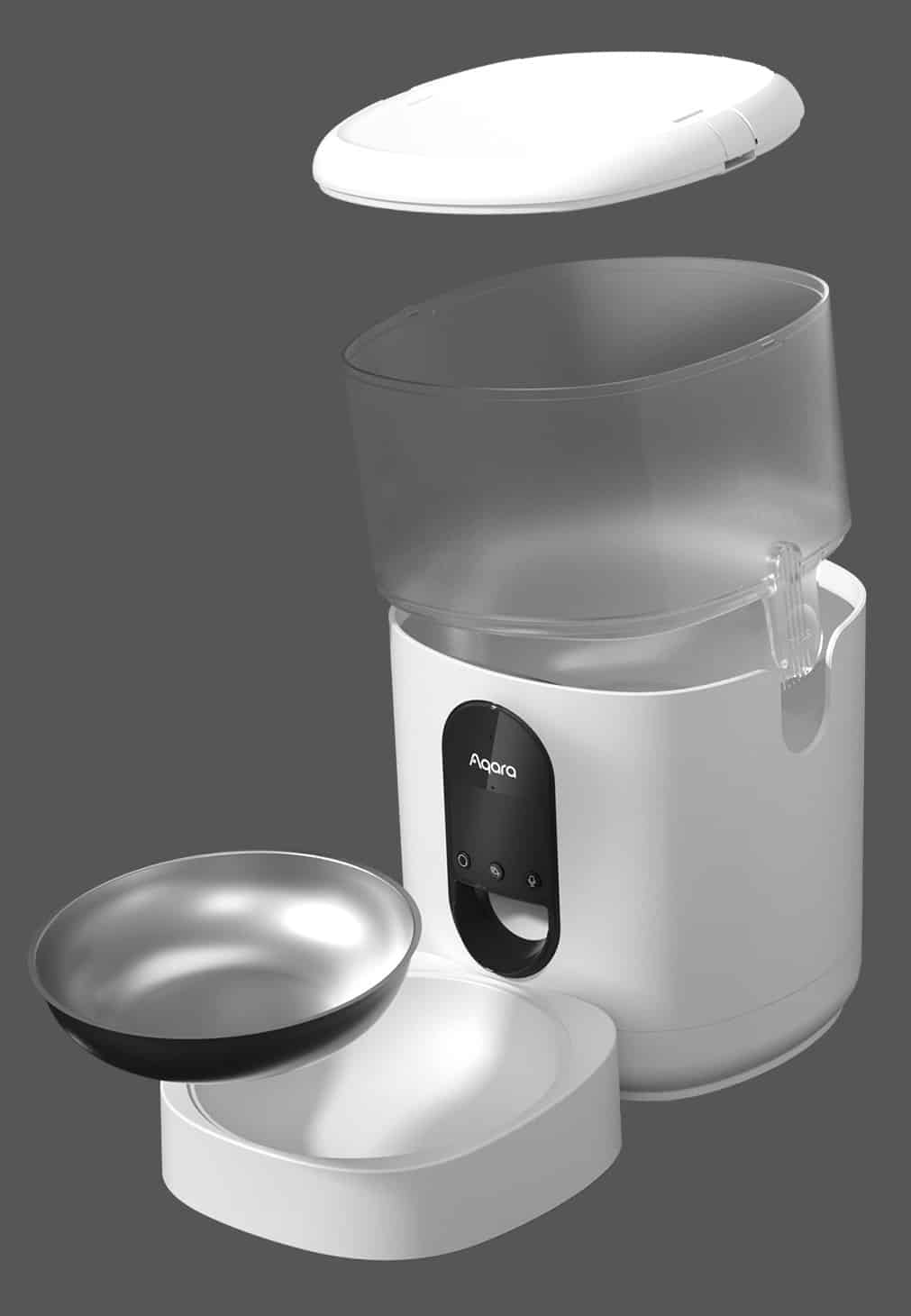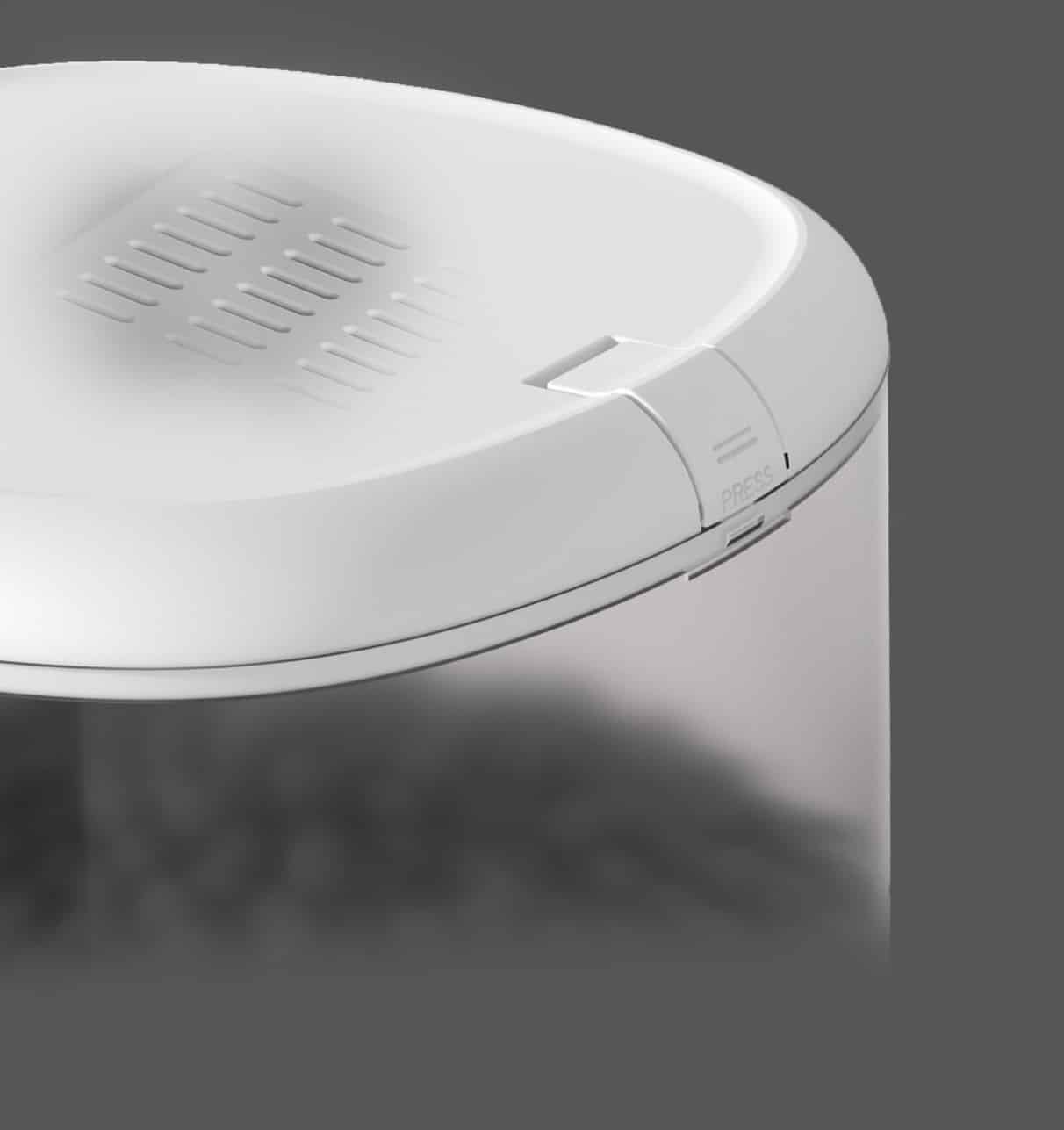 Visible food tank and moisture proof for a long term ease
A large 4-liter (16-cup) visible food tank can incorporate around 1.7 kg (3.7 lbs) of typical pet food, which results in up to a month of feeding a 4 kg (9 lbs) cat*. The desiccant is included into the package and will keep the food dry and fresh.
 * Based on the data provided by petmd.com (50g / 1.8oz daily) ** The included desiccant pack may usually last up to 30 days. However, it may lose its effectiveness much faster in case of increased humidity
Easy feeding statistics in grams
Just dispense one portion of the pet food, weigh it using a kitchen scale, input the number to the device settings, and you will be able to see daily feeding statistics in the device logs.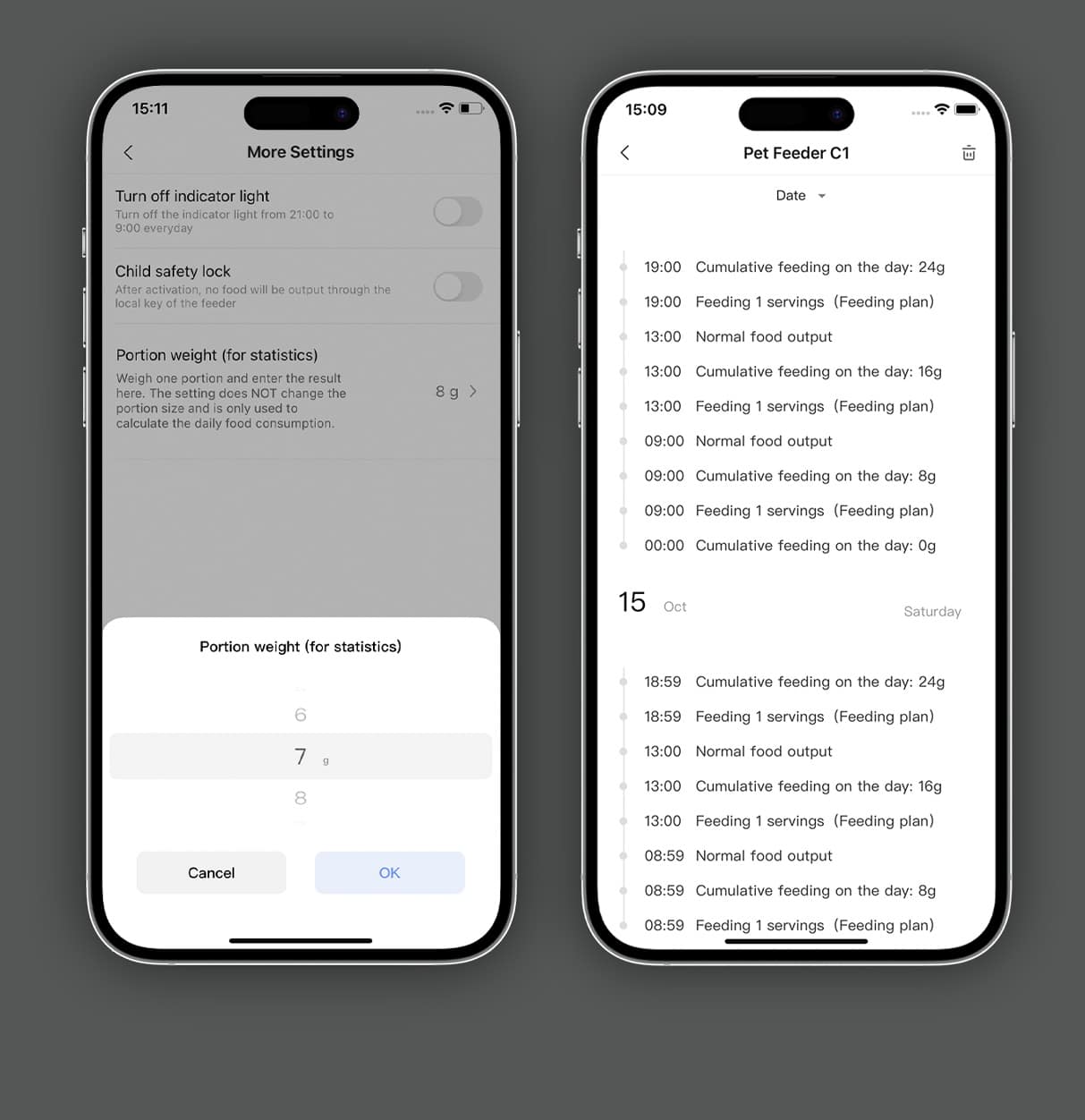 Use the Camera Hub G3 or Motion Sensor to check when your pet is eating or if it hasn't eaten the food
IF Food was dispensed
THEN Turn the camera to Pet Feeder, mark this event on the video timeline, and continue monitoring the room
IF* No motion was detected for 3 hours
THEN Do not dispense the food next time
Moreover, thanks to the gesture recognition of G3, you can also feed your pet by showing a gesture such as «OK» or «V-Sign» to G3.
* Separate automations should be configured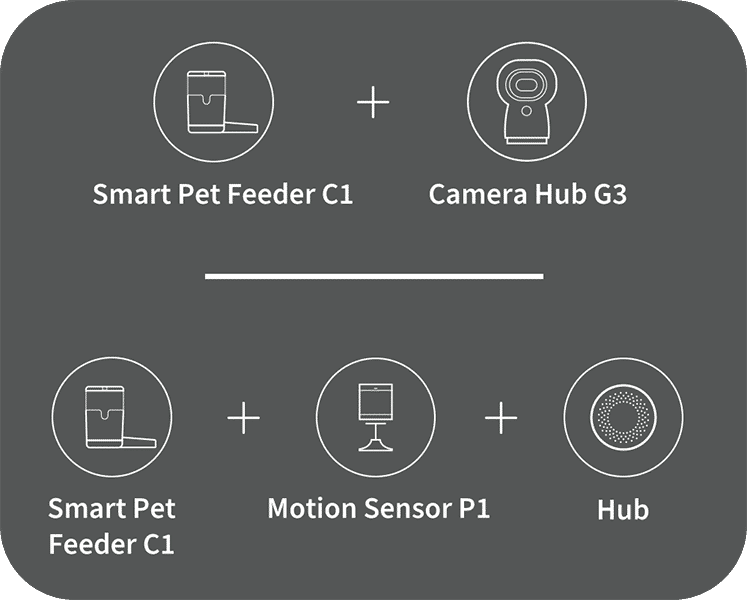 Get creative and train your pet!
Use Aqara sensors or wireless controllers to train your pet! For example, teach your dog to press the Mini Switch, move the Cube T1 Pro or touch the bowl with the Vibration Sensor attached, and the Feeder will dispense the food to reward your pet.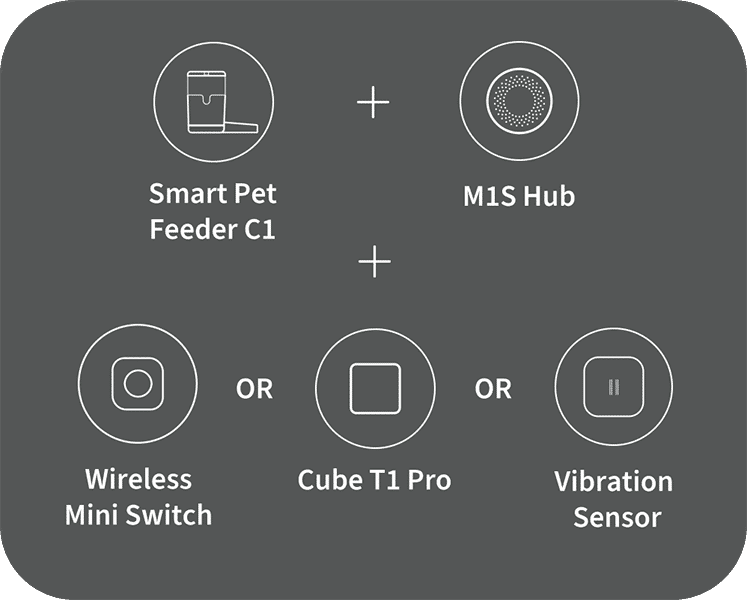 Use the Pet Feeder C1 in HomeKit automations!
1) Set up IF/THEN automation in Aqara Home
IF M1S Hub brightness is 1%
THEN Pet Feeder dispenses the food
2) Set up creative automations in HomeKit. Then you are able to create more automations with other Aqara or third-party devices in HomeKit by simply trigerring the brightness change of M1S!