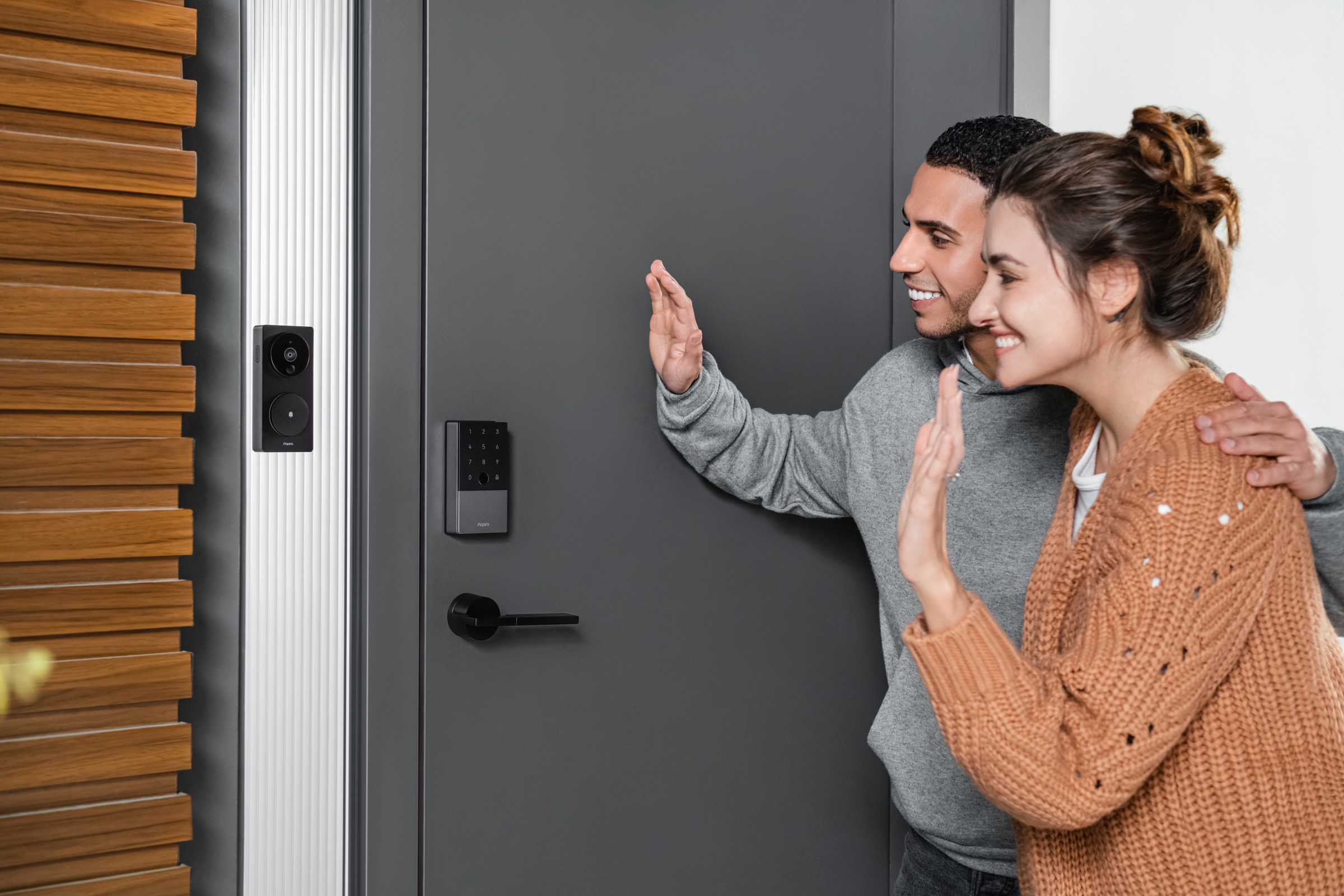 Are you concerned about keeping your family, home, and property safe? Smart video doorbells identify who is on your doorstep and offer the convenience of speaking to someone who is outside without opening the door.
Whether a friend stops by when you are out, you receive a delivery or someone you do not know rings your bell, the video doorbell has you covered. You can monitor access and limit interactions in real-time and review video footage recorded when you are not there. Smart video doorbells enhance other security features, such as motion detectors and cameras.
Table of Contents
Benefits of a HomeKit Secure Video Doorbell
A video doorbell serves as the first security line to protect your property and family. Smart video doorbells allow access from connected devices no matter where you are. Several cameras can record 24/7, storing footage in the cloud for review at your convenience.
There are many video doorbells on the market that work with a variety of smart hubs. If you use the Apple HomeKit for other smart home devices, it makes sense to choose a smart video doorbell that works with it.
The Apple HomeKit supports smart home devices from a single platform, eliminating the need for several hubs. A HomeKit-connected smart video doorbell lets you view your doorway through a connected device no matter where you are. At home, you can view your entryway in real time on Apple TV, your iPhone, or any other connected device. In addition, footage can be stored in iCloud or the manufacturer's cloud for review later.
The Best Video Doorbell for HomeKit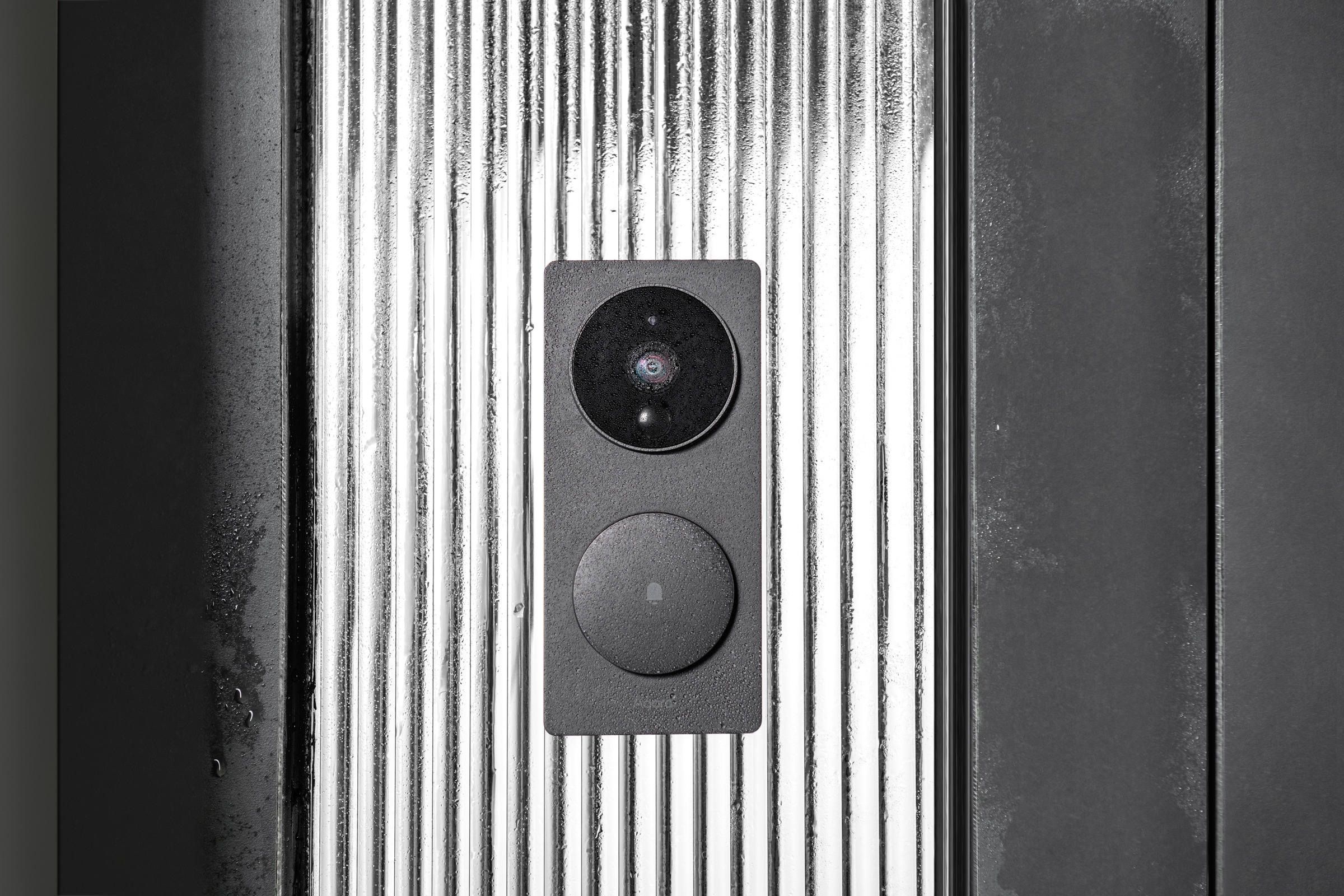 Several video doorbells work with HomeKit. However, many are designed for Android hubs and require bridging to interface with Apple's hubs. The Aqara G4 smart video doorbell seamlessly integrates with HomeKit. Reviewers consider it among the best smart doorbells for Apple HomeKit, noting the ease of installation and the extra touches that add value to the device and its operation.
Aqara offers a range of products for home security, including hubs, sensors, controllers, door locks, and cameras. The company is a strategic partner in Matter development, which offers platform compatibility in connected products. More than 240 Aqara products are compatible with HomeKit, including the G4 video doorbell.
Aqara Smart Video Doorbell G4 for HomeKit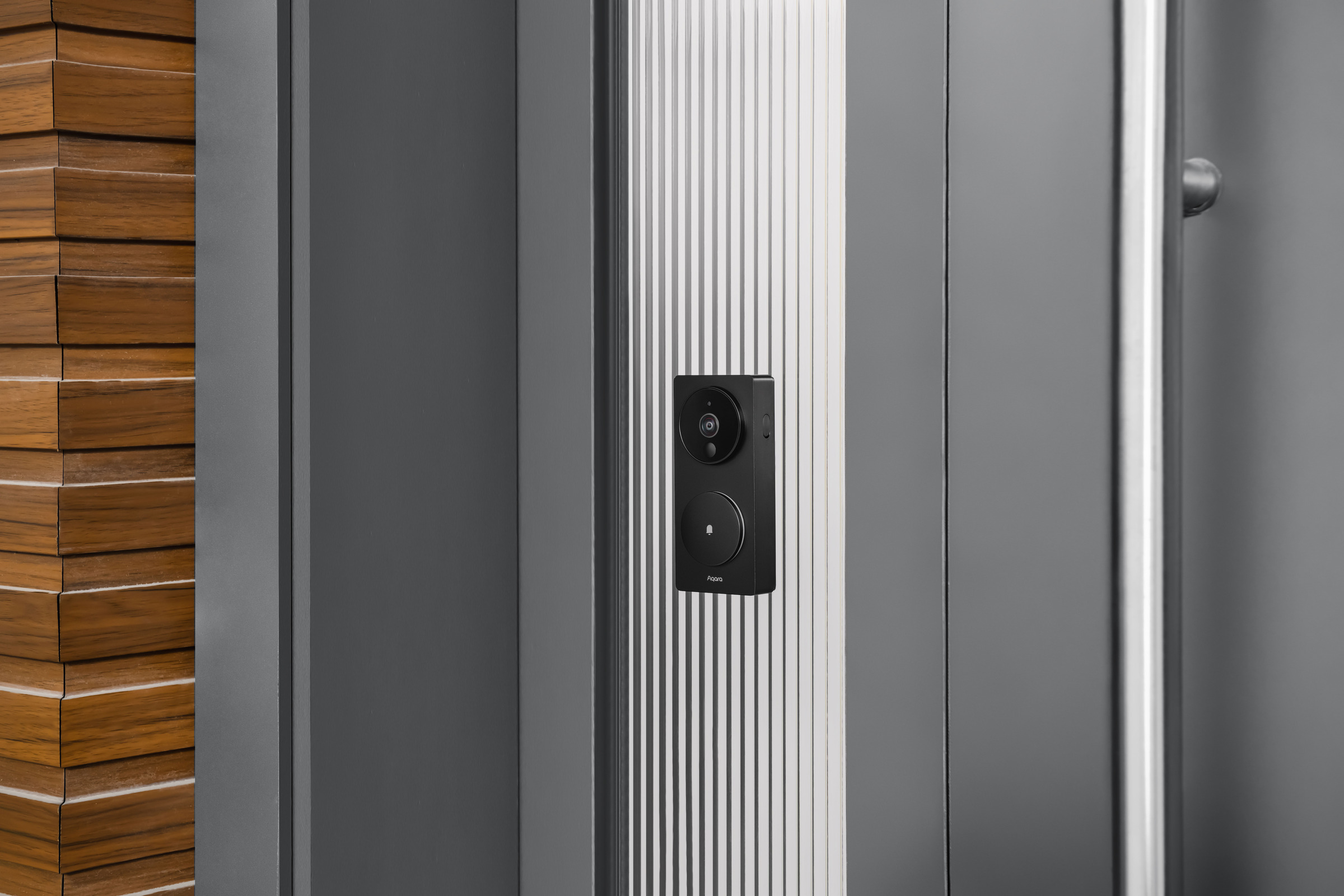 The Aqara Smart Video Doorbell G4 for HomeKit is the first battery-powered smart video doorbell that works with Apple systems. The six AA batteries last up to four months depending on use. It records 24/7, a feature that enhances security no matter where you are.
The Aqara G4 includes a doorbell and a separate repeater chime with custom ringtones. Other features include:
Dual-power with the option of batteries or hard-wiring to a 12V-24V AC or 8V-24V DC transformer or other power supply.
Port for microSD card of up to 512G. The memory card is not included.
Data is encrypted before storage in iCloud.
Voice-changing option to protect privacy.
Siren alerts about break-ins, water infiltration, vibration, or other unusual events.
Option to notify all your Apple security devices.
Works in the rain, heat to 122 degrees F, cold to 0 degrees F, sunshine, and humidity between 0 and 95%.
Available in shadow grey or black.
The 1080p camera attributes include:
162-degree wide-angle viewing.
Personalized face recognition supports up to 30 faces.
Infrared night sensors.
High resolution for sharp image quality.
Privacy and activity masking zones.
Two-way audio enhances safety.
Factors to Consider in Choosing the Best Video Doorbell for HomeKit
You may wonder how to choose the best smart doorbell with HomeKit. You need to consider several factors as you weigh in your options for a HomeKit video doorbell—from hub compatibility, ease of installation, features, and price, to its security and ease of use.
The best HomeKit smart video doorbell is the one that has the versatility and security features that suit your needs. Reviewers consider the Aqara G4 smart video doorbell a good buy for several reasons.
Ease of installation: The Aqara G4 video doorbell includes all you need for installation. Activating the app is simple and seamlessly installs with HomeKit.
Price: This doorbell sells for approximately $120 on Amazon, an economical price for a smart video doorbell.
Security: Security is often the primary reason most folks install video doorbells. Both HomeKit and Aqara apps offer options to personalize the security features, including face recognition, motion sensitivity, loitering alert, and automatic six-second recording if someone tampers with the device. Both apps send video footage to the cloud where you can review footage and save clips. The chime serves as a hub that links to other Aqara and Apple security devices.
Ease of Use: You can configure the device using the Apple Home app and the Aqara Home app.
Features: This is the first battery-powered video doorbell compatible with HomeKit. The large doorbell button makes it easy to identify which button to push. Recording on the wide-screen video is clear in both daytime and nighttime modes. Recordings are encrypted to Apple standards. The two-way audio feature lets you speak to visitors without opening the door. Three alternate voices disguise your voice.
And if you have yet to install devices to secure your home, here's how to set up a simple yet powerful DIY home security system.
How to Install and Integrate Your Video Doorbell with HomeKit
The Aqara G4 video doorbell should be installed on a porch or another shaded area. The doorbell comes with everything required for installation and integration with HomeKit.
Here is what's in the box:
User manual.
Doorbell with button and 1080p camera.
USB-A to USB-C cable.
Six AA batteries.
Mounting screws and screwdriver.
Slanted plate if you want to angle the doorbell.
Chime repeater with microSD card slot.
The device is Wi-Fi-based, connecting to the network via 2.4 GHz.
Both the chime and doorbell use the same pairing code. Installing one component activates the other. Scan the code to set up the device in HomeKit. The interface options include defining activity zones, customizing ringtones, streaming, and recording settings for different users. The Aqara app gives more ringtones and other user options.
Screw the mounting plate into a wall or door frame to install the camera. Alternatively, you can affix it with sticky tape on the back of the plate.
To hard-wire, attach the wires to the two terminals on the back of the camera.
Slide the doorbell onto the mounting plate, and screw in the security screws on the side of the doorbell.
For 24/7 recording, the device must be hard-wired, and a microSD card installed.
The chime, which acts as the hub, must be connected to a power source and installed within 5 meters of the doorbell.
For detailed integration and installation instructions, view the product video on the Aqara site.
How Much Does a HomeKit-Compatible Video Doorbell Cost?
The Aqara G4 video doorbell is among the most affordable on the market. It sells for $119.99.
Where To Buy a Video Doorbell for HomeKit
Check out our Where to Buy page to find your local online or offline retailer.