Aqara, a leading provider of smart home products, announced today the launch of its next-gen flagship home security camera, the Camera Hub G3. The new camera is a 2K, pan-and-tilt camera with the local facial and gesture recognition features, and it integrates a built-in Zigbee 3.0 hub, allowing the device to connect up to 128 Aqara accessories*. It is now available on the Aqara Amazon brand stores in the US, Canada and France, and is also expected to be sold by authorized Aqara retailers in North America, Europe and Asia in the following weeks**.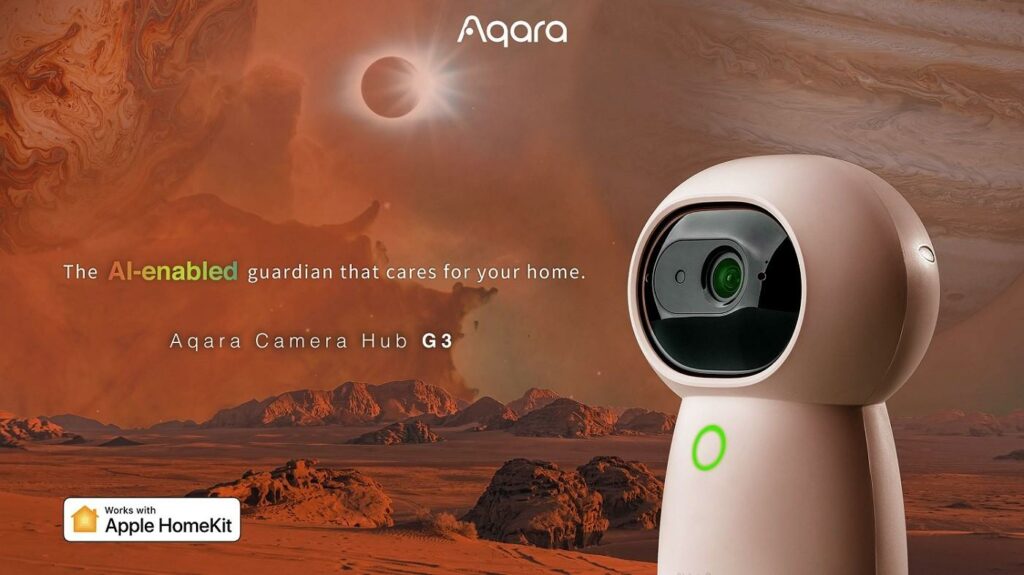 Thanks to a powerful NPU-equipped processor, the Aqara Camera Hub G3 supports facial recognition and gesture recognition features, both of which can be used to trigger home automations. Users can configure to receive push notifications when their young kids arrive home or when a stranger is detected (i.e. a familiar face was not detected), or to stop video recording when the face of a family member or a preset hand gesture is recognized. The AI-enabled features will make homes safer, and make people's lives even easier as users can now trigger home automation with certain hand gestures or simply a recognized face.
The G3 camera hub also supports automatic cruising, face tracking as well as pet tracking, all enabled by the 110° wide-angle lens and the pan-and-tilt motor which provides up to 340° rotation angle. The pan-and-tilt motor can be controlled manually, by the preset cruising path, or via home automations (for example, to turn to the front door when Door & Window Sensor is triggered). Combined with the high-resolution 2304×1296 pixel sensor and the infrared night vision enabled by the 940 nm LEDs, which are invisible at night, the G3 protects homes in 360-degree with no blind spot, day and night.
Compared to the previous G2H Camera Hub, the new G3 provides other advanced features including:
• Wider compatibility with third-party platforms: as a camera it supports not only HomeKit Secure Video*** but also streaming to Amazon Alexa and Google Assistant smart displays, while as a hub it allows connected child devices to support a wide range of third-party ecosystems and voice assistants, such as HomeKit, Alexa, Google Home, IFTTT, and more;
• Local infrared control: the built-in IR controller allows the G3 to automate the infrared-compatible devices, and the IR automation is local which means it remains functioning without the Internet connection;
• Dual-band Wi-Fi support: both 2.4GHz and 5GHz Wi-Fi networks are supported;
• Privacy protection: it is equipped with a privacy shutter that physically covers the camera lens, and the shutter can be activated manually and automatically;
• Type-C port with video out: it uses the modern and universal connector that supports low-latency, high-definition video output via UVC protocol.
To celebrate the launch, Aqara is now offering limited-time discounts for the new Camera Hub G3 on its Amazon brand stores. North American customers will enjoy a 20% discount at check with the promo code USG3PRGE in the US and Canada, and the code will be valid through Nov 24, 2021. Aqara also offers French customers a 20€ OFF discount at its Amazon.fr store, with the promo code CAMERAG3FR, and the offering will expire on Nov 25, 2021.
For more details of the G3 camera hub, please visit our website.
* To connect up to 128 devices, Zigbee routers/repeaters such as Smart Wall Switch (With Neutral) and Smart Plug are required.
** Product availability may vary among different retail channels, and could be updated all the time. It's recommended to check with the regional retailer(s) for real time availability.
*** In HomeKit Secure Video mode, the camera records in Full HD 1080p and Pan/Tilt controls are not available due to the current limitations of HomeKit technology.
About Aqara
Founded in 2016, Aqara is a leading smart home provider with offices in New York and Shenzhen. The Company provides comprehensive smart home products and solutions that are beautifully designed, long-lasting, and easy to use. Products range from a variety of smart sensors to switches, curtain controllers, and smart door locks. Over the last few years, Aqara has opened more than 600 Aqara stores to provide more personalized smart home solutions for individual households and businesses.
Aqara currently serves more than 2 million customers worldwide, with distribution partners in the United States, EU, Russia, Southeast Asia, Korea, and China. The Company also offers one of the most comprehensive suite of HomeKit compatible smart home solutions in the market, and its products can also be found in Apple Stores across Europe and Asia. As the Company continues to expand its global footprint, Aqara hopes to bring more accessible, smart home technology to households around the world.
For more information, please visit our website and follow our social platforms.
For Media Inquiry: