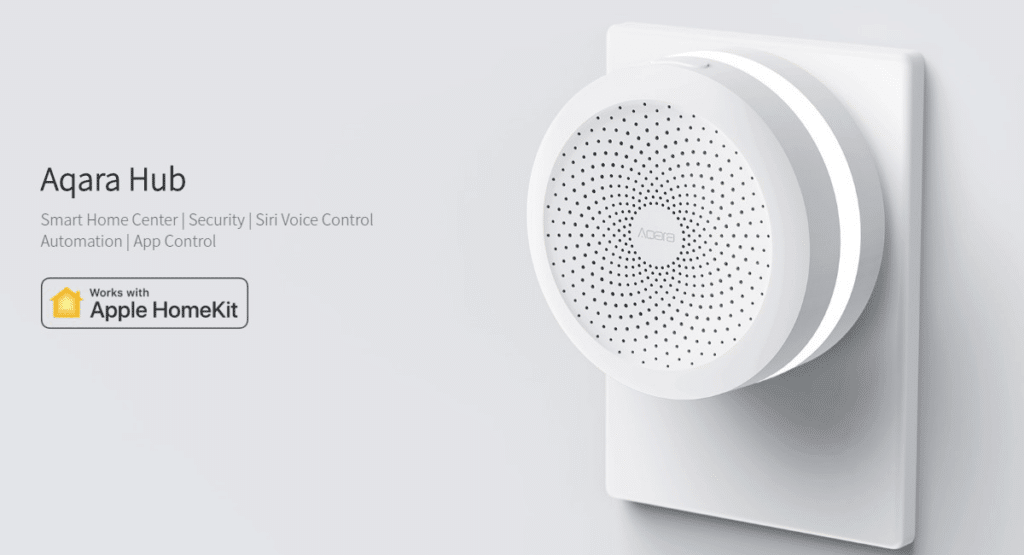 Aqara Hub now Works with Apple HomeKit and a range of Aqara home automation products are approved to work with HomeKit technology. These products are not directly connected to your Wi-Fi network, and they communicate via Zigbee protocol. Even if the Wi-Fi connection is unstable or disconnected, as long as the Hub is powered, local automation still works properly. The Aqara Hub is embedded with 18 RGB LED lights and a loudspeaker, and it serves as a night light, and an alarm.
Aqara smart accessories – Siri & HomeKit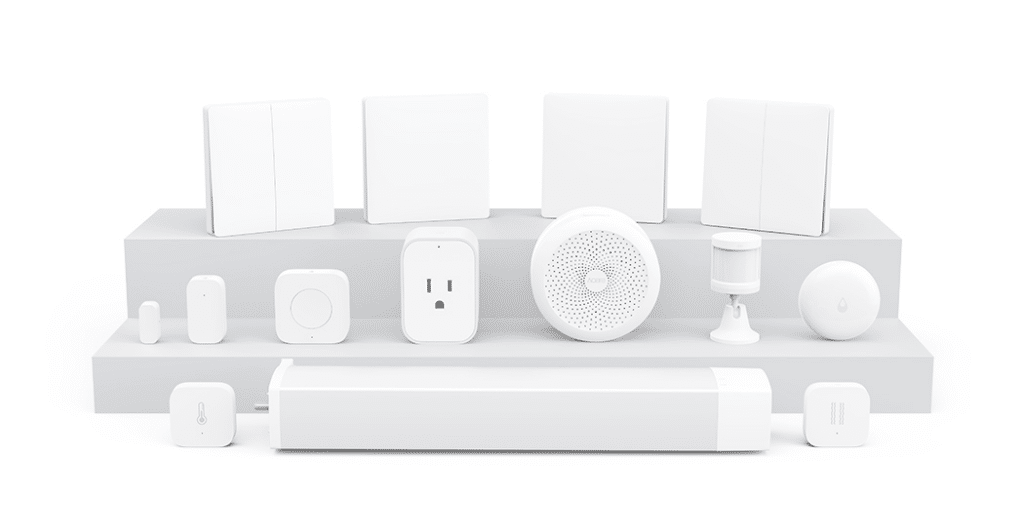 You can use Siri to control Aqara accessories. With this Aqara Hub, you can enjoy the whole home automation experience in the Home app. You may desire to know how many Aqara smart accessories work in Apple HomeKit platform. As the following image shown, Aqara Hub enables 14 Aqara products to work with HomeKit technology, including wireless mini switch, wireless remote switch (single rocker), wireless remote switch (single rocker), wall switch (no neutral, single rocker), wall switch (no neutral, double rocker), wall switch (with neutral, single rocker), wall switch (with neutral, double rocker), door and window sensor, motion sensor, temperature and humidity sensor, vibration sensor, water leak sensor, smart plug and curtain controller.
Besides, Aqara smart accessories also work with other HomeKit-enabled accessories. For example, you can use an Aqara wireless mini switch to turn on Philips Hue bulbs or August smart lock through the Home app. The connection between Aqara smart accessories and other HomeKit-enabled accessories from different brands becomes much easier.
Real applications with Aqara smart devices
Home security

Aqara smart home accessories work in different scenes in our daily life. For home security, turn on the security mode when you leave home. If the Aqara Hub detects that your doors or windows are opened for no reason, it will start gleaming and make a siren noise then send an notification to your smart phone.
Automated lighting

With Aqara motion sensor and Aqara Hub, the integrated LED light in the hub can be automatically turned on when you get up at midnight.
One touch turn off light

With Aqara Hub, Wireless mini switch and Smart wall switch,you can stay on the bed and turn off the lights by one touch.
Freely set the curtain with Siri

With Aqara curtain controller (coming soon) and Aqara Hub, you can freely set the curtain from 0% to 100% with your Apple devices and Siri.