(Berlin) August 31, 2023 – Aqara, a leading provider of smart home products, is thrilled to announce its attendance at this year's IFA show, where it will unveil multiple new smart home devices. These include the Smart Lock U200, the Camera E1, the Dual Relay Module T2, the Ceiling Light T1M, and an EU-style wall outlet. Aqara will be showcasing these new devices along with other smart home technology and solutions at its booth (H22, 214).
With a commitment to making smart home technology more accessible to households worldwide, Aqara continues to expand its product portfolio to enable various home automation use cases. The five new products previewed at IFA are expected to become available for order in the coming months.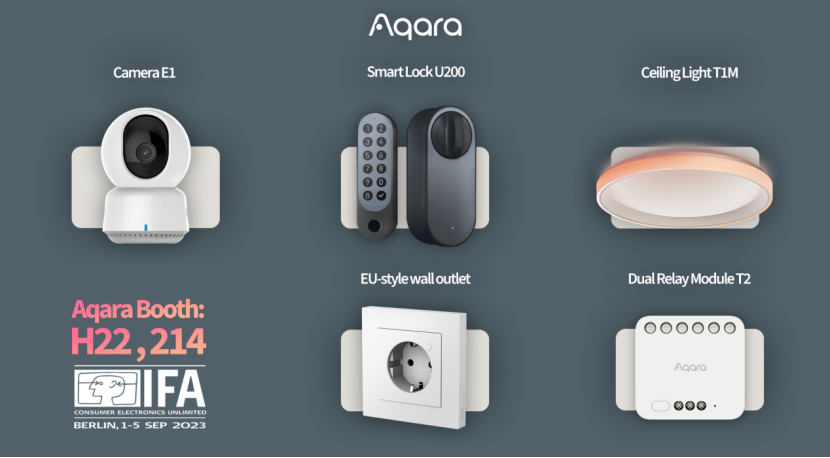 Smart Lock U200 – As a retrofit solution, Aqara's new Smart Lock U200 offers the convenience of keyless home access to a broad user base. The lock operates with existing cylinders and requires no drilling or door modifications. As Aqara's first Matter-over-Thread smart lock, the U200 will be interoperable with a wide array of smart home ecosystems and products. Using an Aqara NFC card or specified NFC-enabled mobile devices, users can unlock easier than ever before. Other secure access options include auto-unlock, fingerprints, PIN codes and mobile apps. Aqara also plans to initiate its first crowdfunding campaign on Kickstarter for the Smart Lock U200 later this year.
Camera E1 – Aqara is expanding its home surveillance camera portfolio with the 2K, Pan/Tilt Camera E1. Similar to other indoor home cameras from the Company, this new camera supports major third-party platforms like Apple Home (including HomeKit Secure Video), Amazon Alexa, and Google Home. Built upon Wi-Fi 6 and Bluetooth 5.2, the camera enables smoother live view and easier pairing experience. Other features of the E1 camera include AI-enabled person detection, person tracking and flexible storage options such as cloud storage, microSD card, and NAS storage.
Dual Relay Module T2 – The Dual Relay Module T2 is a versatile solution for home automation, allowing easy control of various devices ranging from lights, motorized window coverings, garage doors, boilers, to electric heaters and underfloor heating. Built upon Zigbee 3.0, the dual relay module features Matter-over-bridge support and is compatible with major third-party platforms. It also allows users to monitor energy consumption and ensures peace of mind with safety features like overheat protection, overload protection, and configurable power limits. Powered by AC (100-250V) or DC (24-60V), the 2-channel relay supports a total (and per-channel) loads of up to 10 Amps.
Ceiling Light T1M – Following the LED Strip T1, which was announced in August 2023, Aqara is introducing its second smart lighting device to the global market. With an approximate diameter of 50 centimeters, the Ceiling Light T1M offers a broad spectrum of hues from dimmable whites to 16 million vibrant colors, allowing users to set the atmospheric lighting for different occasions and moods. Additional features include an independently addressable RGB ring for gradient effects and integration into home automation, such as using the RGB ring as a status light to indicate potential threats like an open door or water leak. Similar to other Zigbee devices from Aqara, the Ceiling Light T1M features the low idle consumption, Matter-over-bridge support, and the wide compatibility with major platforms.
EU-style wall outlet – Finally, Aqara is introducing a smart wall socket for the EU market. This outlet allows easy control of plugged devices via mobile apps, voice assistants and home automation. It also helps users track energy consumption. Moreover, this new outlet can be configured to sense and report the status of the plugged device, making it possible to use the on/off status of an appliance as an automation trigger. For example, to close the curtains and dim the lights when the TV is turned on, or to notify the user when the washing machine finished the laundry. As a repeater of the Zigbee network, this socket outlet also enhances network reliability and responsiveness of other compatible smart home devices.
"Aqara is at the forefront of innovating the smart home experience, and these new products are a testament to our dedication. Each of them is crafted with the user's convenience and lifestyle in mind, reflecting our commitment to quality and innovation," said Cathy You, Aqara Senior Vice President, Global Business and Strategy. "We invite everyone to join us at our booth to experience firsthand the future we're building together."