After Aqara's successful release of its Smart Wall Switches and Aqara Cube, they are now releasing the Aqara Water Leak Sensor on Amazon.com.
Water leak sensors are making it easy for people to check for water leaks from anywhere 24/7. The sensors help to prevent unnecessary damage and potential home disasters by catching a leak early. The Aqara Water Leak Sensor is a great choice if users are looking for reliability. It is small, discreet, and can fit anywhere. It has a very appealing design, and it comes at a competitive price.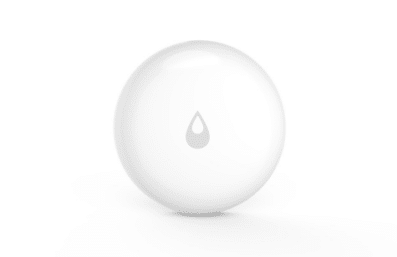 The Aqara Water Leak Sensor can detect flooding, while also monitoring the status of any water leaks. When the water level of the detection site is higher than 0.5mm, the sensor will sound, and the mobile phone app will receive a notification to remind the user to take appropriate action. The alarm will stop once the water level becomes normal. The Aqara Water Leak Sensor can also work with other smart accessories to automate homes.
The Aqara Water Leak Sensor meets IP67 dustproof and waterproof rating. It is guaranteed to work in humid and dusty environments. It is designed to fit anywhere and can be placed according to your needs, guarding your home with its elegant design. The sensor works with other HomeKit-enabled accessories in the Apple Home app to make your life easier and more convenient. The Aqara Water Leak Sensor uses a CR2032 battery and will last up to 2 years under normal circumstances. The Aqara Water Leak Sensor is a Zigbee device, and the Aqara hub is needed to make the sensor work.