Aqara, a leading provider of smart home products, announced the launch of the Aqara Hub E1, which is a USB-powered Zigbee 3.0 smart home hub. Hub E1 is Aqara's smallest hub so far, and it serves as the control center for a wide range of the classic and the latest Aqara accessories, connecting up 128 child devices*. The new hub is available on the Aqara Amazon brand stores in the US, Canada, the UK and France. It will also be made available via authorized Aqara retailers in North America, Europe and Asia in the following weeks**.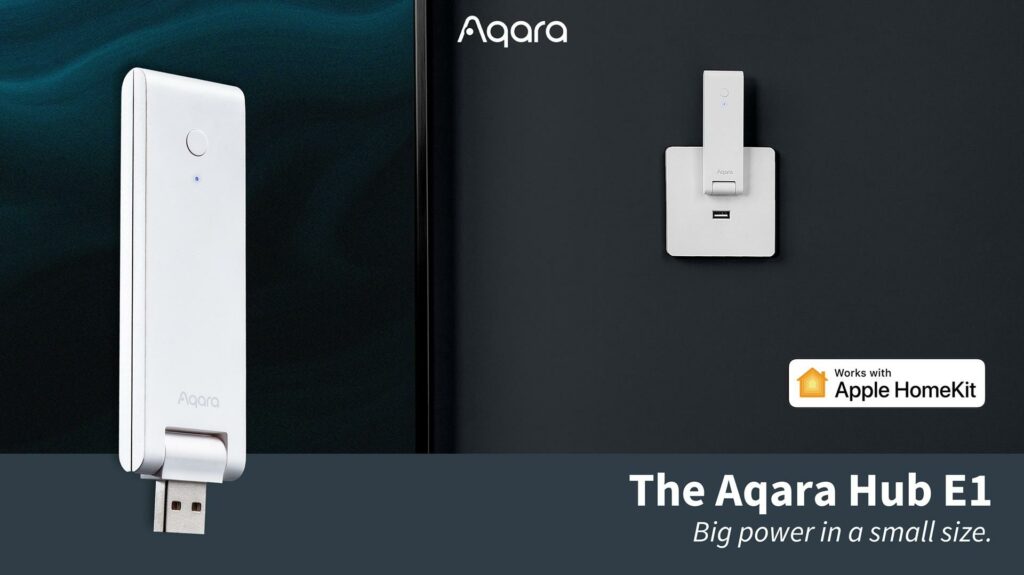 The Aqara Hub E1 features a compact design and high installation flexibility. With a size of 4.25″ X 1.18″ X 0.3″ and a weight of merely 58 grams, the new hub is not much bigger than an average USB flash drive. A regular USB-A port is integrated into the hub's housing, hence the new hub could be powered from almost any USB-equipped devices, for example wall outlets, power strips, PCs, power banks and even Wi-Fi routers. Combined with the 210° adjustable shaft angle, the E1 hub could be placed flexibly.
The E1 hub also offers all-round compatibility, and it exposes the connected Aqara child devices to a majority of popular ecosystems and voice assistants, such as HomeKit, Alexa, Google Home, IFTTT, Alice, and Marusya. Moreover, the Hub E1 could act as a 2.4GHz Wi-Fi repeater***, so that users could enjoy a better experience with an optimized Wi-Fi network.
All 4 native HomeKit alarm modes are supported by the E1 hub. Once configured, users will receive mobile phone notifications when there is a risk to home security, for example when human motion is detected unexpectedly, or when the door/window is opened unexpectedly. For users deploying different Aqara hubs within the same network, sirens for other Aqara hubs will also be triggered in such cases.
To celebrate the launch, Aqara now offers a 10% discount for the new Hub E1 on its Amazon brand stores, with the promo code USCAE1E1 in the US and Canada, and the promo code HUBE1EUUK in the UK and France. The offering will be valid through October 28, 2021.
For more details of the E1 hub, please visit our website.
* To connect up to 128 devices, Zigbee routers/repeaters such as Smart Wall Switch (With Neutral) and Smart Plug are required.
** Product availability may vary among different retail channels, and could be updated all the time. It's recommended to check with the regional retailer(s) for realtime availability.
*** Wi-Fi repeater function supports up to 2 Wi-Fi devices.
About Aqara
Founded in 2016, Aqara is a leading smart home provider with offices in New York and Shenzhen. The Company provides comprehensive smart home products and solutions that are beautifully designed, long-lasting, and easy to use. Products range from a variety of smart sensors to switches, curtain controllers, and smart door locks. Over the last few years, Aqara has opened more than 600 Aqara stores to provide more personalized smart home solutions for individual households and businesses.
Aqara currently serves more than 2 million customers worldwide, with distribution partners in the United States, EU, Russia, Southeast Asia, Korea, and China. The Company also offers one of the most comprehensive suite of HomeKit compatible smart home solutions in the market, and its products can also be found in Apple Stores across Europe and Asia. As the Company continues to expand its global footprint, Aqara hopes to bring more accessible, smart home technology to households around the world.
For more information, please visit our website and follow our social platforms.
For Media Inquiry: