(New York) November 15, 2023 – Aqara, a leading provider of smart home products, is delighted to announce the widespread availability of its latest Camera E1. This camera is ideal for the budget-conscious consumer desiring the premium features of Aqara's cameras – such as seamless third-party platform compatibility and versatile storage options – without the need for an additional Aqara hub. Embracing Wi-Fi 6 technology, the Camera E1 delivers superior connectivity and video quality. It is now available on the Aqara Amazon brand stores across North America (US, Canada) and Europe (France, Germany, Italy, Poland, Spain, UK), as well as via select Aqara retailers worldwide1.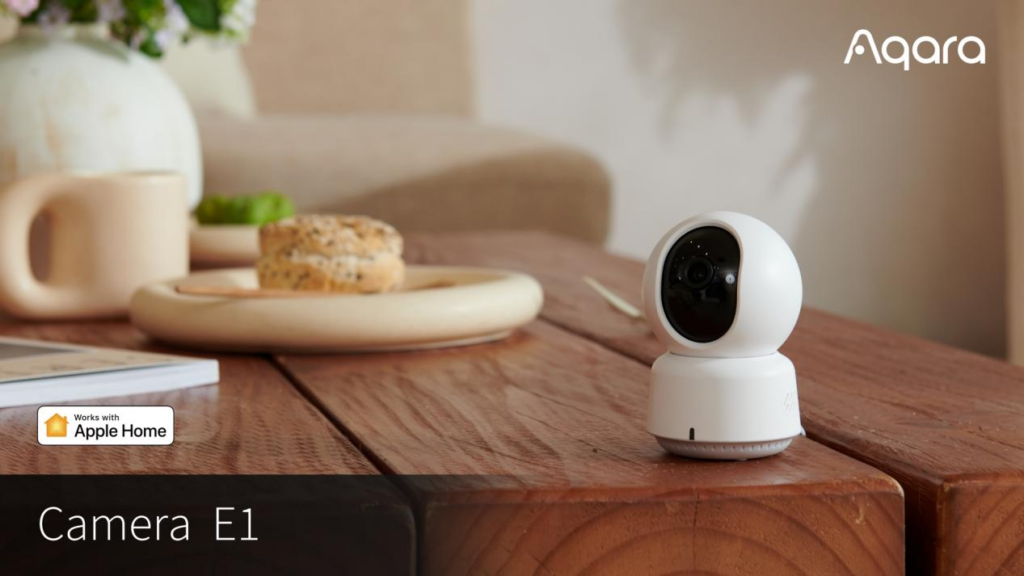 Outfitted with a crisp 2K sensor, a wide-angle f/2.0 lens, Pan/Tilt functionality, and invisible infrared night vision, the Aqara Camera E1 provides users with a comprehensive view of their home environment – both day and night. Using the Aqara Home app, users can direct the E1 camera to automatically pivot to a preset angle – for example the front door – when a corresponding sensor is triggered, enhancing security vigilance. The built-in NPU of the camera empowers advanced features like person and sound detection2, allowing for focused monitoring of critical occurrences. Motion events can be filtered, and users will be alerted when a person or a designated sound (e.g., barking, crying) is detected. Both person and sound detection operate locally on the device for heightened privacy, independent of cloud services and Internet connection.
The Camera E1 utilizes the latest Wi-Fi 6 (802.11ax) technology, guaranteeing high-speed data transfer and stellar performance even in a congested network environment. This ensures a smoother live view with reduced latency. Security is also paramount, with WPA3 supported to safeguard user data. Furthermore, the camera adds Bluetooth 5.2 connectivity to facilitate an effortless pairing process. Aqara Home's new MagicPair feature prompts users to bind the new devices when they open the app.
Designed for universal adaptability, the Camera E1 is compatible with major smart home platforms such as Apple HomeKit, Alexa, and Google Home. Similar to other Aqara camera models, the E1 camera supports Apple's end-to-end encrypted HomeKit Secure Video. Storage flexibility is key, and this camera supports encrypted cloud storage through Aqara or iCloud platform, or local storage on a microSD card (up to 512 GB), which can also be backed up to NAS storage3.
As an indoor camera, the E1 prioritizes user privacy. Its privacy mode deactivates the camera and angles the lens away from the activity zone, and the option to disable audio recording is also available for added peace of mind. These privacy settings can be manually activated on the Aqara Home app or via various automations with other Aqara devices.
Product availability may vary among different retail channels and could be updated on an ongoing basis. It's recommended to check with the regional retailer(s) for real-time availability.
The Camera E1 offers 24-hour critical event storage on the Aqara cloud subscription-free. HomeKit Secure Video requires an iCloud subscription and offers 10-day storage. The microSD card is not included. For NAS storage, a microSD card must be inserted.
Sound detection is not available at the time of the launch, and is expected to be added via a future OTA update. Person detection and sound detection is only available in Aqara Home.