Aqara, a leading provider of smart home products, is set to expand its product portfolio in 2023 with the addition of innovative sensors, smart door locks, video doorbells and LED strips. Committed to providing seamless connected home experiences to millions of global users, Aqara continues to enrich its offerings with latest smart home technologies and new device types.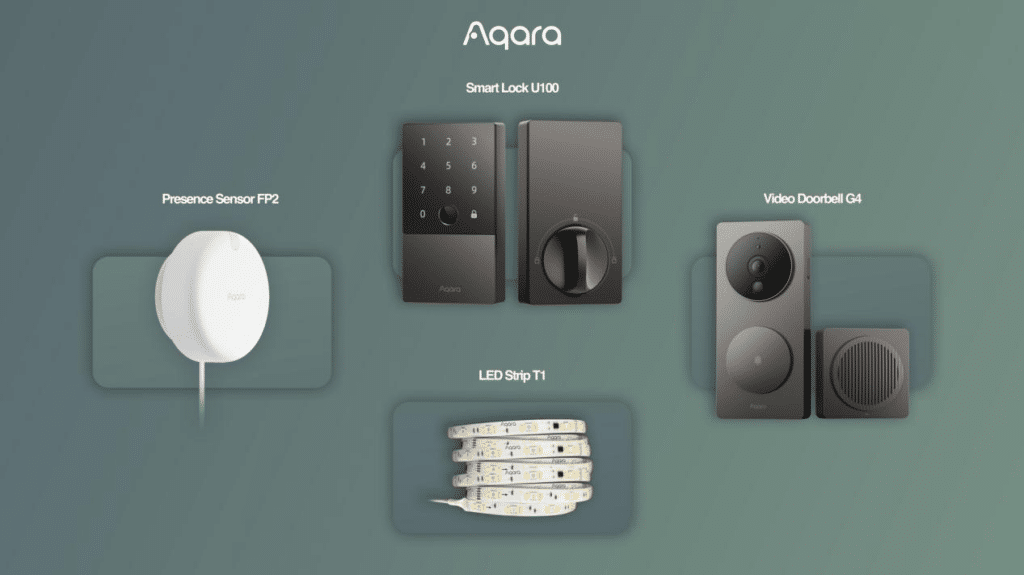 Video Doorbell G4 is complementary to Aqara's indoor home cameras, and together these cameras help users to keep an eye on their homes, families and visitors anytime, anywhere. This doorbell allows highly flexible installation as it can be battery-powered or wired for continuous power. It not only supports HomeKit Secure Video and local streaming to Amazon and Google smart displays, but it will also work with Matter after the Matter specification for cameras is ready. The G4 features local, AI-enabled facial recognition, which can trigger different automations depending on the person, and the device also includes both the 7-day free cloud storage and the optional local storage via a microSD card.
Presence Sensor FP2 is a revolutionary addition to the Company's wide-ranged sensor lineup. Based on the millimeter wave (mmWave) radar technology, the FP2 detects human presence even when the person is sitting still. It enables zone positioning, which allows users to define different zones within a room such as the bed, the dresser, or the sofa area, and the presence in each of these individual zone can trigger different automations for a more customized experience. Other features include multi-person detection, fall-detection and a built-in light sensor.
Smart Lock U100 is the first deadbolt lock from Aqara, offering a secure and convenient home access solution that can be seamlessly integrated into the modern smart homes. The U100 lock is one of the few smart locks in the market that is compatible with HomeKit and supports the home key feature in Apple Wallet. Other access authentication options include fingerprints, passwords, Aqara Home app, NFC cards, and mechanical keys. Based on the Zigbee protocol, the U100 supports Matter via a compatible Aqara hub.
LED Strip T1 is a multipurpose RGB CCT lightstrip that is intended to enrich smart lighting experiences for Aqara users. It produces up to 16 million vibrant colors and tunable white light and is addressable with gradient effects. HomeKit, Alexa and Google Home are supported, and Matter support via a compatible Aqara hub is expected to be added after its launch. The LED strip is Zigbee-based which means lower power consumption and less congested home Wi-Fi network, and it also serves as a repeater that enhances the Zigbee network.
These devices from Aqara will become available for purchase in the following months. For more information of these products, please check a demonstrative video here.
Committed to enabling seamless user experiences, Aqara has been working to integrate Matter into its existing and new devices. In 2023 new OTA updates will be pushed to Aqara hubs – beginning from the M2 – so that they can serve as Matter bridges and connect Aqara Zigbee devices to Matter. Moreover, the Company also confirmed a new lineup of Thread-based devices with native Matter support this year, including the Door and Window Sensor P2 and the Motion and Light Sensor P2 which are expected to hit the market in the coming months. As part of the ongoing partnerships with Aqara, both Google and Samsung are featuring these new sensors on respective booths at CES 2023, along with other Aqara devices including the Hub M2 as a Matter bridge.
About Aqara
Founded in 2016, Aqara is a leading smart home provider with offices in New York and Shenzhen. The Company provides comprehensive smart home products and solutions that are beautifully designed, long-lasting, and easy to use. Products range from a variety of smart sensors to switches, curtain controllers, and smart door locks. Over the last few years, Aqara has opened more than 700 Aqara stores to provide more personalized smart home solutions for individual households and businesses.
Aqara currently serves more than 7 million customers worldwide, with distribution partners in the United States, EU, Southeast Asia, Korea, and China. The Company also offers one of the most comprehensive suite of HomeKit compatible smart home solutions in the market, and its products can also be found in Apple Stores across Europe and Asia. As the Company continues to expand its global footprint, Aqara hopes to bring more accessible, smart home technology to households around the world.
For more information, please visit our website and follow our social platforms.
For Media Inquiry: